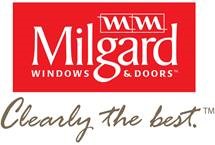 Tuscany®  Series Vinyl WindowsTuscany Series can make a world of difference to your home. Each window is custom made to your specifications using our signature vinyl formulation and crafted with award-winning hardware. Tuscany Series windows are built to meet or exceed ENERGY STAR® standards in all climate zones for your comfort.A combination of quality material and innovative engineering help create a high performance vinyl window. To ensure top quality from start to finish, Milgard begins by precisely controlling our vinyl compound formulation to withstand harsh climate conditions. We extrude our own frame material, and fabricate all Tuscany Series windows to order, giving us the tightest control over quality.
Style Line® Series Vinyl Windows Style Line Series vinyl windows are crafted with narrow frames to allow for more visible glass area. The slim-profile design minimize obstructed view between two windows, making Style Line Series a great choice to use in combinations that reflect a sleek, contemporary look. Frames are available in a multitude of neutral colors to blend with softer tones.High strength design allows for more glass within a narrow frame. To create a smooth and sleek look, Milgard designed Style Line Series windows with minimal protruding hardware, slim-profile frames and neutral color finishes. Style Line Series casement and awning styles are operated by an innovative folding handle that tucks out of the way.
Montecito® Series Vinyl Windows Montecito Series windows require little upkeep as the vinyl frame essentially takes care of itself.  Minimal maintenance such as dusting the track and cleaning the glass with mild soap and water will help prolong the life of Montecito Series windows.Find style and color inspiration with your choice of seven premium exterior vinyl finishes.

To create color that lasts, Milgard developed a new coating technology that allows UV rays to pass through the paint and reflect off the vinyl frame. This preserves the exterior color and finish. Get inspired to create the home you deserve.

Essence Series ® Wood Windows Wood has always been praised for its beauty and natural insulating properties inside the home–but presented real challenges in terms of durability on the exterior. With Essence Series®, Milgard combines the best of both worlds. A durable fiberglass exterior stands strong to protect a solid wood interior against the elements for lasting beauty and exceptional performance.When Milgard set out to create a better wood window, we re-imagined just about everything. Essence Series windows are now the wood window of choice for homeowners, architects and builders; and a popular choice for new construction, renovation and remodel projects and historical restorations.
 
Ultra & WoodClad Series Fiberglass WindowsThe dimensional stability of Ultra™ Series fiberglass windows make it a popular choice for high humidity and high heat environments, such as bathrooms and kitchens. A WoodClad™ Series option offers you the beautiful look of wood veneer on the interior without the need for sanding and repainting.Ultra™ & WoodClad™ Series windows and patio doors stay true through almost any environment. Because it's made from glass fibers, the frame expands and contracts at approximately the same rate as the insulated glass it holds. This puts less stress on the seals, reduces the chance for seal failure while allowing for a clear, fog-free view.