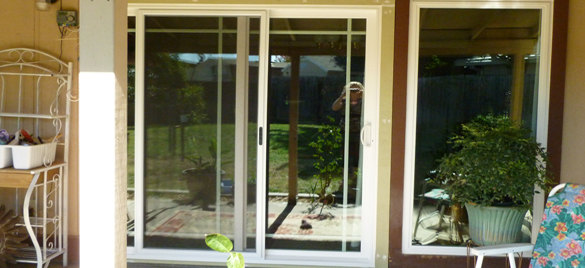 [meteor_slideshow slideshow="project4″]
North Highlands is a wonderful place to live with warm climate, friendly people, and beautiful grasslands. Christina Rondeau, owner of a house in the heart of North Highlands, was looking for a reliable window repair or replacement solution. She wanted to give her home a new look by replacing the existing doors and windows. Her major concern was the patio door replacement which had become the biggest eyesore in her house and wanted to add elegance to her house by getting rid of it. She asked us for doors and windows that would make a strong style statement thereby improving the appearance of her home.
French Patio Doors Replacements
We suggested her to select the most suitable door from our latest collection of French patio doors. We installed a brown colored patio door with Queen Ann Sculptured grids for transforming the home's old patio as it would allow for a wider entrance, greater view, and better air exchange.
We enhanced the beauty of the house by installing 1 French patio door and 8 windows which replaced the old single pane bronze aluminum windows. Simonton Daylight max bay single hung tan oak veneer window frames which were installed which had a streamlined design that would complement the home. These windows offered an attractive style as they had Low E366 glass with an Argon gas fill that provides excellent performance in all kinds of weather.
We offer highly dependable doors and windows replacement solutions and aim at complete customer satisfaction. Our doors and windows are durable enough to function smoothly year after year, tough enough to withstand the weather elements and strong enough to keep her home safe and secure.
If you are looking for a company that can add decorative element and architectural interest to your house, California Energy is the perfect destination. Browse through our collection of products and contact today for the best re-modeling solutions quote.