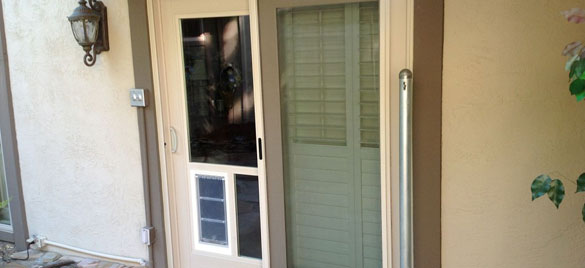 [meteor_slideshow slideshow="project6″]
Rocklin, CA, located in the metropolitan area of Sacramento, is a wonderful city which has a pleasing weather, abundant recreational opportunities, good quality schools, dependable infrastructure and beautifully designed homes to live in.
Windows Replacement and Door Repair Company
Mary King was looking for a dependable windows replacement company for making certain modifications and changes in her existing house located in Rocklin, CA. She was facing inconvenience with the maintenance of the doors and windows in her house. Besides this, she also wanted a special door for the entry and exit of her lovable pet.
We analyzed the design of the entire house and understood the needs and requirements of the owner. After complete analysis, we suggested to replace some of the existing doors as they had started swelling, peeling, rotting, drying out and cracking because of changing weather conditions. For the doors which were not in such a bad condition, we offered door repair solutions that enhanced the look of the dull and worn off doors.
Simonton Windows and Doors Installation in Rocklin, CA
We installed 16 Simonton windows and 3 doors at this house in Rocklin, CA. These windows are remarkably energy-efficient, durable, corrosion resistant, simple to install and require less maintenance. These attributes of the Simonton windows impressed the owner of the house and left her enthralled with the results of windows replacement and door repair project. In addition to this, we also fixed a Pet Door Design French rail door, an excellent utility-model pet door, for comfortable movement of the pet in and out of the house.
Our Sacramento windows replacement company offers the most suitable doors and windows replacement solutions. We offer a wide assortment of doors and windows that withstand harsh weather conditions, function properly year after year and help in keeping a home safe and secure.
We not only add decorative element to the house but also contribute to the architectural interest. California Energy Consultant Service is an ideal destination that gives life to a dream house by providing the most suitable re-modeling solutions.