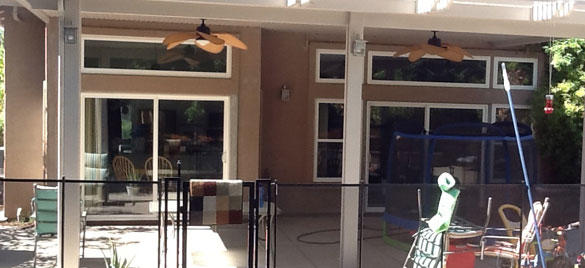 [meteor_slideshow slideshow="project8″]
Folsom is a dynamic city of Sacramento County, CA, United States. It is a unique blend of historic insight, sophistication and ceaseless energy.
Windows Installation Folsom, CA
Larissa Beschastnov moved into her new house but she wasn't satisfied with the existing windows in the house. She was looking for an experienced company that could carry out the windows replacement and windows installation project at her new home in Folsom, CA and that's when we came into picture. She complained to us about the existing low-end windows that offered less functionality and were hard to operate. She wanted to replace these windows with something that would give a new look to the house.
After analyzing the house properly, we installed Arch windows with bronze glass having a dark tint to prevent glare. The bronze glass windows offer excellent privacy as the people living inside the house can see what is happening on the outside but the people who are outside the house cannot peep in and will only be able to see their own reflection. In addition, two of the bathroom windows were also upgraded with decorative reed glass that was aesthetically appealing in comparison to the earlier windows. We ensured to understand her requirements and offered highly effective windows replacement solutions for her new house in Folsom, CA
Sacramento Windows Replacement Company
We are an established Sacramento windows replacement company that has a well-trained staff having in-depth knowledge of the advantages and disadvantages of various kinds of doors and windows. Through their knowledge, they are able to deliver the most suitable windows replacement solutions to the clients. At California Energy Consultant Service, we offer energy efficient windows that enable our clients to cut down on electricity bills. Our windows are beautiful enough to transform the overall appearance of the house. We provide a wide assortment of doors and windows to choose from and install the best products that are highly functional, easy to maintain and that add to value of the house.
If you want to get rid of your broken, damaged, dull and drab windows, call for our assistance. We bet you won't regret investing your time and money with us. Our professionalism and commitment to work will leave you completely satisfied.