Take A New Look At The World With Our Single Hung Windows In Sacramento
Do you want to replace the old and inefficient windows in your home in Sacramento? Consider installing single hung windows as they are economical and functional, and can make a bold style statement. Like double hung windows, they are rectangle in shape and often installed vertically in home, though they can be designed and developed to fit nearly any opening. Because they open vertically, you will have more external and internal space as compared to other windows types. We have a vast collection of high quality single hung windows that are manufactured to be easy to clean and to withstand dirt and weather elements. Blending simplicity with energy-efficiency, these windows are affordable, allowing you to modernize your home without spending thousands of dollars.
Single Hung Windows Installation Sacramento
Our single hung windows are well designed and offer increased ventilation and comfort. Also known as fixed windows, they have two sashes of which the top one doesn't operate, creating a traditional appearance. The tilt sashes provide bottom ventilation and make the cleaning inside and outside of windows much easier. Moreover, single hung windows are available in a wide range of styles and patterns, so you can always find the design that suit the interior and exterior of your home. They can even be custom made to meet your personal comfort needs and to be energy-efficient. Attractive and stylish in appearance, our single hung window will definitely enhance the beauty of your home in Sacramento and increase its marketability.
Single Hung Windows Replacement Sacramento
We offer a range of single hung windows replacement services to people living in Sacramento. Our vast industry experience combined with an enviable commitment to delivering quality service enables us to cater to your single hung windows installation needs in Sacramento in an efficient and professional manner. Contact us today for a free quote.
[symple_tabgroup]
[symple_tab title="Overview"]
Our windows feature a traditional frame design that compliments classic architecture. Offering energy efficiency that far outperforms ENERGY STAR® standards, helping you reduce heating and cooling bills. Our available styling options will make your home stand out with a wide selection of colors, hardware finishes, and decorative glass and grid designs.
Note* – All features and options not available on all styles
Styles Available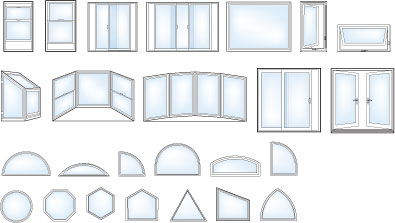 ENERGY STAR

No matter where you live, Simonton windows and doors can be ordered to meet ENERGY STAR guidelines for any region of the country. Helping reduce your heating and cooling costs and meet the guidelines set by the EPA and US Department of Energy.
AAMA

Thanks to AAMA Gold Certification, you can be sure Simonton windows and doors meet the highest performance standards for air and water infiltration resistance, structural integrity and forced entrys.
[/symple_tab]
[symple_tab title="Features"]
Energy Efficiency
Vinyl is one of the least conductive materials available to help maintain consistent temperatures in your home
Reduce temperature transfer to help lower energy costs and keep your home comfortable all year long
3/4" insulating glass unit set deep into the sash reduces temperature transfer and condensation
Reduce the transfer of heat and flexes with temperature fluctuations to maintain an effective seal
No Hassles
Designed to lift, slide or crank with minimal effort
Grids between-the-glass provide a smooth easy to clean glass surface
Vinyl construction will never require sanding, painting and scraping
A Breath of Fresh Air
Rollformed screen frame
Full screen or half screen
Fiberglass mesh screen is crease resistant and durable
Built to Weather Life
Fusion-welded construction provides durability and weather-resistance
Multiple points of weatherstripping inhibit wind and rain penetration
Beauty that Endures
The sleek, contoured exterior will beautifully complement your home's architecture
Premium vinyl will retain its beauty for years with virtually no maintenance
Color-matched hardware blends seamlessly with the window
[/symple_tab]
[symple_tab title="Options"]
Glass Options
[/symple_tab]
[symple_tab title="Colors"]
Colorful options. Unforgettable style.
Choose from a wide selection of color, grid and style options to accomplish the look you want. Standard vinyl colors are molded throughout the vinyl for long-lasting beauty. You can select from exterior colors, woodgrain interiors and unique hardware options that complement your home brilliantly.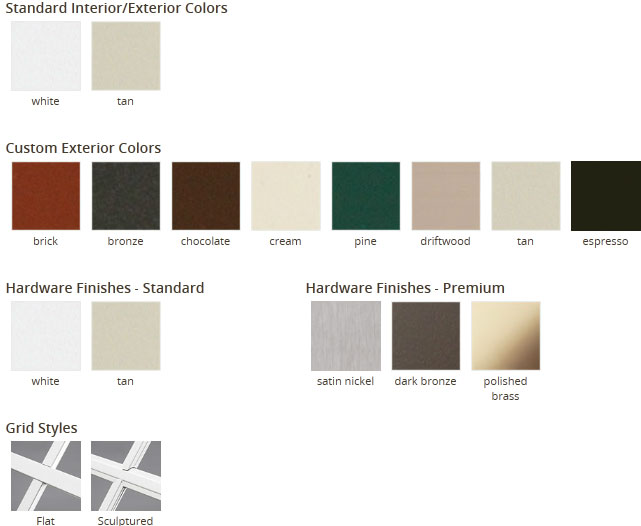 [/symple_tab]
[/symple_tabgroup]