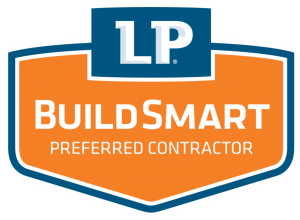 LP® SmartSide® Trim & Siding
More Than 17 Years Of Proven Performance
LP SmartSide is one of the fastest-growing house siding brands in the United States. It's an excellent choice for homeowners who want beautiful curb appeal and the easy maintenance that comes from these innovative engineered wood siding products.
More Impact Resistant
LP SmartSide Siding products are more resistant than fiber cement products to impact damage from common projectiles such as golf balls, baseballs, and rocks. In fact, independent testing by NASA confirmed it. "Under similar conditions, with all three projectiles more damage was sustained by the fiber cement siding product than the engineered wood siding product." NASA REPORT: Evaluation of Impact Damage Resistance of Two Types of Commercial Housing Siding: December 21, 2012.
Realistic Woodgrain Texture
LP SmartSide products have a more realistic wood texture than most fiber cement products.
Time Tested
LP SmartSide products are proven and time tested. LP has manufactured over 8 billion square feet of SmartSide products and they have been installed on over 9 million homes since 1997.
Easier to Install
LP SmartSide is significantly lighter per linear foot and stronger than fiber cement. It's easier to carry and install on the jobsite and no special tools are required to cut it.
Up to 33% Fewer Seams
LP SmartSide trim and lap siding comes in 16′ lengths vs. fiber cement's shorter 12′ lengths, often resulting in fewer seams or joints on your structure.
Possible Cost Advantages
LP SmartSide products are available nationwide through independent dealers. Due to the lighter weight and increased coverage per piece, there are often significant installed cost advantages with SmartSide lap, trim and shakes over similar fiber cement products. Ask your local dealer for details.
Longer warranty
The LP SmartSide 5/50 Year Limited Warranty is longer than most fiber cement product warranties. Read the warranty for yourself at www.lpcorp.com.
No Efflorescence
LP SmartSide products do not contain the natural salts and minerals which sometimes discolor fiber cement products.
Renewable Resource
All SmartSide products are manufactured with wood (a renewable resource) procured using processes certified by the Sustainable Forestry Initiative (SFI®).
Reversible
Some LP SmartSide trim comes in reversible smooth and cedar textures, greatly adding to its flexibility on the job site.
 
LAP SIDING

Get the versatility to create a custom look with LP SmartSide Lap Siding. Available in different sizes in smooth and textured finishes, LP SmartSide enhances the curb appeal of new and remodeled homes. Plus, it's the perfect complement to homes finished in other exteriors such as stucco, stone and brick.

FEATURES & BENEFITS

Ø  Available in long lengths for fewer seams and a beautiful appearance

Ø  Rich cedar grain texture or smooth finish

Ø  Treated with the SmartGuard process to resist termites and fungal decay.

 
HOUSE TRIM, COMMERCIAL TRIM AND FASCIA

Now you can easily achieve the look you want with LP SmartSide Trim and Fascia. It's available in lengths up to 16' for fewer seams than most house trim, and you'll get a premium appearance that enhances the curb appeal of any home. Plus, LP SmartSide Trim and Fascia come in a wide assortment of styles so you can add a touch of craftsmanship that's hard to miss.

FEATURES & BENEFITS

Ø  Available in a variety of textures and profiles to create the look you want

Ø  Ideal for corner boards, fascia and trim around windows and doors

Ø  Treated with the SmartGuard process to resist termites and fungal decay.

 
SOFFIT PANELS

Complement Your Siding With Matching LP SmartSide Soffit Panels

Available in vented and non-vented, LP SmartSide Soffit provides you the ventilation you need and the look of wood you want. It's the perfect alternative to metal vents and provides airflow and insect resistance to meet most international building codes. Plus, LP SmartSide Soffit panels are easy to install because they work and cut just like traditional wood products.

FEATURES & BENEFITS

Ø  Offers the natural look of cedar to complement your trim and exterior siding

Ø  The ideal alternative to MDO, plywood, vinyl or hand-installed metal vents

Ø  Offers 10 square inches of ventilation per linear foot, making it easier to meet code requirements

Ø  Eliminates time spent ripping full sheets

Ø  Available in strand substrate

 
CEDAR SHAKES

LP SmartSide Cedar Shake Siding is a great choice for adding charm and character to any home. It's an affordable alternative to achieving the natural look of real shake siding with easy maintenance and upkeep. Use it for decorative accents or your entire home.

FEATURES & BENEFITS

Ø  Easy installation of lap siding with staggered or straight edge options in one versatile piece

Ø  Suitable for an entire house or as a decorative accent with any siding

Ø  Pre-primed for exceptional paint adhesion and easy maintenance

Ø  Treated with the SmartGuard process to resist termites and fungal decay.

Ø  Works and cuts like traditional wood siding with no special tools required

Ø  Available in fiber substrate

 
ENGINEERED WOOD SIDING PANELS

The Rich Look Of Wood For Any Home

LP SmartSide Panel Siding offers all the warmth and beauty of traditional wood siding, along with the advantages of our treated wood technology. Our advanced processes actually improve upon nature, creating siding panels that are far more durable, dimensionally stable and consistent than traditional wood materials.

FEATURES & BENEFITS

Ø  The natural look of cedar

Ø  Ideal exterior for homes in areas of high winds or seismic activity

Ø  Treated with the SmartGuard process to resist termites and fungal decay.

 
LP® ARMORSTRAND™ SUBSTRATE FOR TEXTURED FINISHES

The Strength Behind The Look Of Stucco

LP ArmorStrand Substrate helps provide faster installation times when finishing a home exterior with textured finishes. You'll get crisper, cleaner lines backed with the toughness to resist harsh weather.

FEATURES & BENEFITS

Ø  Proven substrate solution used for more than eight years

Ø  Treated with the SmartGuard process to resist termites and fungal decay.

Ø  Provides exceptional resistance to moisture damage

Ø  APA® approved for single-wall construction over code-approved water-resistive barrier

Ø  Comes pre-primed and ready for the application of approved textured finishes

Ø  LP ArmorStrand 5-/50-Year Limited Warranty

Ø  For more information on the warranty, click HERE.

DEFINE YOUR HOME'S STYLE WITH BEAUTIFUL PREFINISHED COLORS

Enjoy the natural warmth and beauty of traditional wood with a distinctive cedar pattern, now available in a range of popular color finishes through our LP Preferred Prefinishers.

Ø  The Preferred Prefinishers participate in a rigorous quality control and audit program to maintain high standards

Ø  Each Preferred Prefinisher offers a robust warranty on their coatings in addition to the industry-leading LP SmartSide warranty on the substrate

Ø  Factory-applied coatings are often preferable in challenging cold or moist climates

Ø  Many Preferred Prefinishers offer custom color matching