Right NOW: See if you can get thousands in rebates with your next home performance project. Let's work together to make your home energy efficient!
Call 916-852-8132.
Sacramento, we're all about energy efficient homes! California Energy Consultant Service has been providing home performance solutions to the homeowners of greater Sacramento and Northern California for more than three decades. In that time, we've built important relationships with manufacturers, financial institutions, and local utility providers. This has been to ensure that we can help our customers identify the best products and systems, and make them aware of financing options if these are needed. We can help you with whole house energy audits and save electricity with energy-efficient replacement air conditioner systems, insulation, windows, doors, siding, and more.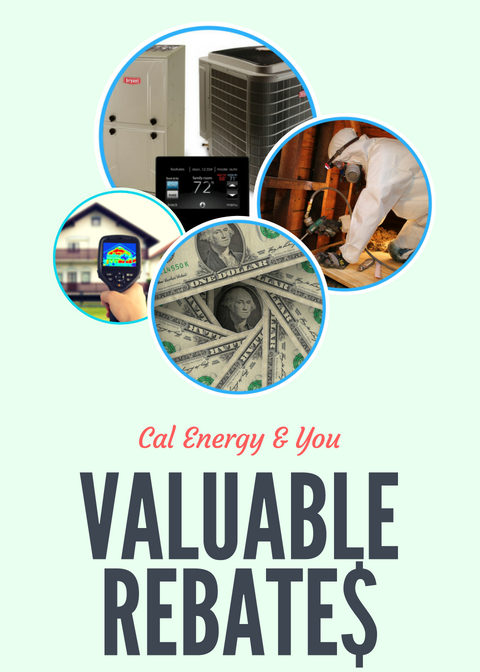 The Cal Energy team can help you explore valuable rebates that take your home performance project from start to finish. Just give us a call at 916-852-8132, or fill out this form with your information and we'll get back to you ASAP.
Is your home leaking energy? Do temperatures differ from room to room? These issues can signify inefficiencies in your home, which can waste money and sacrifice comfort. Achieving climate balance for a home in the Sacramento area can be a challenge, but we've got the experience and skills to help make your home as energy efficient as possible.
California Energy Consultant Service is proud to be a contractor with the SMUD Home Performance Program. SMUD's HPP requires participating home performance contractors to follow the standards of the Building Performance Institute and be extensively trained in building science and technology. Learn more: SMUD Home Performance Program.
PG&E: Energy Upgrade California Home Upgrade
The Energy Upgrade California Home Upgrade option offers up to $5,500* in rebates. The PG&E Web site states that Energy Upgrade California Home Upgrade evaluates all the systems in a home to determine which upgrades can reduced energy use and improve a home's comfort. Call 1-844-818-7204 or email info@homeupgrade.org.