Window Installation and Window Replacement in Folsom, CA with CECS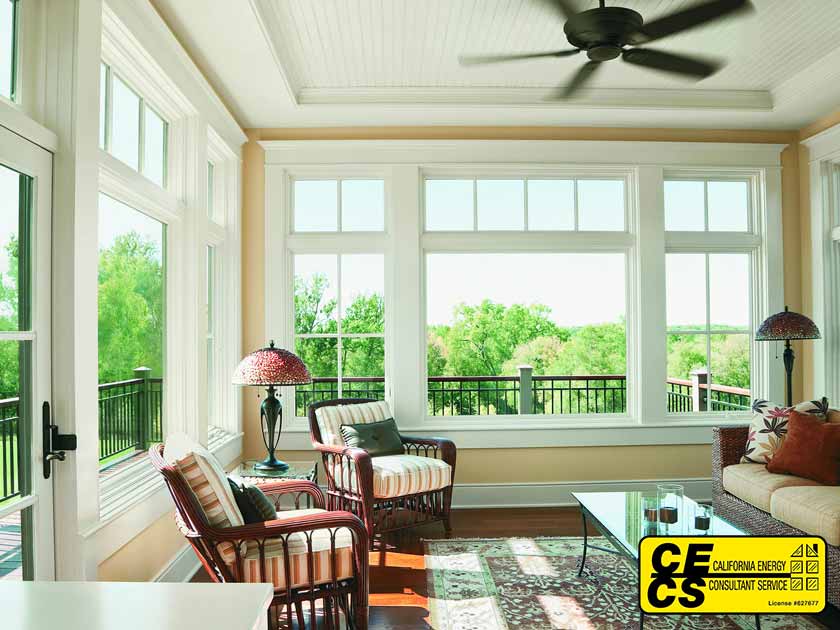 California Energy Consultant Service is a local replacement window and installation contractor near Folsom, CA that is able to provide both new construction and retrofit windows for properties of all sizes. We have access to all top window brands, including Simonton, Anderson, and Milgard, and can provide sliding glass door installation as well as if needed.
We're a bit different from your typical window provider. We specialize not only in windows in Folsom, but also energy efficiency, which means that we're dedicated to giving you the *best* windows at a very competitive cost. Schedule a free quote by filling out our online form, or call us at (916) 545-7912 to schedule an estimate.
Full Service Window Installation in Folsom, CA
Window technology is better than ever. They're stronger, longer lasting, clearer, and more attractive. But their best benefit is that windows now have much better energy efficiency. Today's windows reduce energy loss, lower energy bills, and make the temperature of your property more comfortable.
California Energy Consultant Service is a Folsom window contractor that provides outstanding quality windows at today's most competitive prices. We have all the best window brands, and are able to install essentially any type of window that your property needs, including:
New Construction Windows – When you want your windows to be built into your home for a cleaner look that will withstand the tests of time, we can provide new construction windows that can often increase the value of your property.
Retrofit Windows – A more affordable alternative to new construction, retrofit windows fit within the existing window frame. Also known as "replacement windows," they require less construction and are still made to last.
Sliding Glass Doors – California Energy Consultant Service also provides glass doors that can be made in the same style as the other windows of your home. These glass doors are easier to operate and protect against energy loss for years.
Our team of window contractors in Folsom is happy to take on small window replacement projects, or provide you with a whole house estimate depending on your needs. We are capable of custom windows, offer different frame options (including black window frames), and have access to windows made from wood, vinyl, fiberglass, and more.
Why Consider New Windows in Folsom?
Folsom is a special area. Even on its hottest days, we have a bit of a breeze that makes going outside a bit more bearable, and we have some tree cover which means that we get a little bit of shade to cool us down. But inside of our home, our air conditioners are working extremely hard, trying to keep our properties cool and comfortable.
One of the reasons that air conditioners have to work so hard is not just because it's hot outside – even though it does hit 110 degrees sometimes here in Folsom. It's also because the temperature inside of your home has a tendency to leak or transfer outside, causing cool air to leave and hot air to come in.
The source of this is often your windows. Many of the homes here in Folsom have single pane windows, which can cause as much as a 30% increase in energy loss. Even double pane windows from the 1980s, 1990s, and early 2000s struggle to hold in the temperature of the home. The sun's rays and the warm glass heat the inside of the home, causing all that cool air to leave and be replaced by hot air.
Replacing these windows can drastically reduce your energy bills, provide much greater comfort during both the hot and cold months, and make your property look more aesthetically pleasing as well. Because new window installs also allow us to seal any leaks, you should also notice even less energy loss – and possibly other benefits as well, like fewer pests able to squeeze through the cracks.
Contact CECS for a Free Estimate
We know price matters. We're confident that our estimates will be competitive for any type of window installation you need. We also have an outstanding in-house team that truly cares about customer service and will keep you informed every step of the way.
Start the process today by contacting California Energy Consultant Service, and let's schedule time to come to your property and provide you with the window installation solutions you need. Call now.