Vinyl Replacement Windows and Patio Doors: A Cost-Effective Investment for your Lincoln Home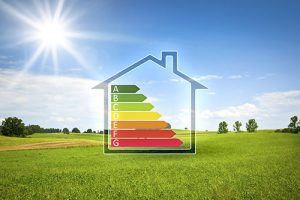 Since 1981, California Energy Consultant Service has been partnering with homeowners in Lincoln and throughout the surrounding area to help make their homes more energy efficient. By performing a full home performance energy audit, our highly trained Energy Auditors can assess the unique needs of each home and work with clients to ensure they are spending their home improvement dollars wisely. One of the most prudent investments to make for any home is high quality vinyl replacement windows and patio doors. The right windows and patio doors are one of the strongest elements in an energy efficient home. Installing energy efficient vinyl replacement windows and patio doors will help you save money on your monthly energy bill while also doing your part to positively affect the environment. The best part is that our vinyl replacement energy efficient windows and patio doors also deliver high performance and sophisticated style to your home.
Were you aware it would take 9 million trees to absorb the CO2 produced I one year by insufficient windows? And, the average home with energy efficient windows can reduce CO2 output by up to 16 tons over 20 years. Your single home can make a difference to our overall environment. And, you will be directly impacted by the money you save every month and the increased market value of your home. One way we help you determine which energy saving projects is with our home performance energy audit. California Energy Consultant Services is one of Sacramento Municipal Utility District's preferred providers of The Home Performance Assessment. The Home Performance Assessment provides you with a complete examination of where your home is wasting energy. You will learn the cause of any drafts, inconsistent temperatures, heating and cooling system failures. Some energy loss issues are readily evident, but some are invisible and can go unnoticed.
By offering the exceptional brands of Simonton and Milgard vinyl replacement windows and patio doors, we can serve you with confidence knowing that we will have a high quality product to suit your specific needs.
Energy Efficiency
Both Milgard and Simonton vinyl replacement windows and patio doors offer unmatched energy efficiency. Both brands offer special Low-E coatings to provide high thermal performance and year around, climate controlled comfort. The Low-E (low-emissivity) coating keeps out damaging UV rays from the sun that can fade walls, carpeting and furniture. Simonton's DaylightMax™ vinyl replacement windows have a streamlined design that features less frame and 40% more glass. This allows more natural, filtered light into your home. Milgard offers a variety of tint coatings that help control temperature as well as improve privacy and security.
High Quality and Performance
The Simonton and Milgard brand of vinyl replacement windows and patio doors are robust and built to last. Both manufacturers have built their dynamic reputations on fabricating long lasting, high quality windows and patio doors. Both companies employ strict manufacturing practices and rigorous inspection standards to ensure their products are the best. The superior vinyl used in their vinyl replacement windows and patio doors will not corrode, blister, rot or peel. This means they are virtually maintenance free and will never need painting.
Style and Beauty
Both our brands offer sophistication and beauty for your home. They come in a selection of handsome architectural designs sure to please all tastes and styles. The sleek style of the DaylightMax™ vinyl replacement windows by Simonton makes it possible to use your current indoor window coverings saving your money and providing an effortless transition into your home's present interior design. Milgard vinyl replacement windows and patio doors come in an array of color choices such as the more traditional white and beige or decorator colors such as light gray or espresso. There are colors to fit every personal preference. Both brands will complement the look and feel of your home and greatly enhance your curb appeal.
Remember, California has the HERO (Home Energy Renovation Opportunity) program. The HERO program allows property owners to receive a fixed-interest rate loan, with flexible payment terms, for projects that help lower utility bills, increase property value and overall make the community more sustainable. California Energy Consultant Service is certified to service El Dorado Hills and the surrounding area. To learn more about the HERO program, please visit heroprogram.com or call 855-HERO-411 (855-437-6411) to speak with a program representative. There are several other financing options and tax implications for making energy efficient home improvements. Be sure to research your area to find all the programs available to you.
Contact us to schedule your free in-home consultation. Our straightforward and honest service has brought customers back to us again and again for their home improvement needs and they continue to graciously refer us to others. We were proudly named Dealer of the Year by Windows and Doors magazine in 2014; recognized for excellence in innovative thinking. We want to share our expertise with you. Visit our website at www.calenergyexteriors.com and complete the consultation form online or give us a call at 916-993-5000. You can also meet with our knowledgeable team in person at our showroom. They can show you the value and quality of our vinyl replacement windows and patio doors first hand. We are located at 11367 Trade Center Drive, Unit 115, Rancho Cordova, California 95742. Let the experts at California Energy Consultant Service show you how vinyl replacement windows and patio doors can bring style, performance and energy efficiency to your Lincoln home.
slmp_geojuice state="CA" city="Lincoln" checkin_per_page="2″ zoomLvl="9″ hide_title="true" hide_subtitle="true"]