New Siding Installation and Replacement in Greater Sacramento with CECS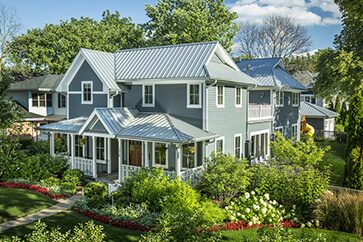 Your siding has many important functions for your property. While it is best known for the way that it changes your home's appearance, it also plays a key role in energy efficiency, heat transfer, pest protection, and more.
California Energy Consultant Service is an energy efficiency company that specializes in new siding installation and replacement. Based in Orangevale and serving Sacramento, Fair Oaks, Rancho Cordova, Folsom, El Dorado Hills, Roseville, and beyond, our team provides new siding installation and siding replacement in a variety of styles, both to improve the value of your home and its energy efficiency.
We can help you not only choose the right siding option for your existing home or new build, but also complete exceptional work for high quality and long lasting siding installation. Call us today to get the process started with a free on-site quote.
Siding Options from Top Manufacturers
Our team at California Energy Consultant Service installs siding from the leading manufacturers in the industry. This enables us to offer a range of siding options in a variety of styles. Our most popular types of siding include:
Wood Composite Siding
Stucco Siding
Vinyl Siding
Fiber Cement Siding, and More
We want to make sure that you're matched with siding that meets your visual and aesthetic preferences, while also connecting you to new siding and an installation process that can improve your energy efficiency and comfort dramatically. We offer a range of options that makes it possible for us to provide the right solution for wherever your property is located, whatever the architectural style requires, and whatever existing features, if any, you need to match.
Some of the different manufacturers and products that we offer include:
LP® SmartSide® Trim & Siding – This siding product is an engineered wood with a beautiful and highly realistic wood grain texture. Siding is SmartGuard treated to make it resistant to damage from termites and fungal decay. It is also high strength for reliable impact resistance. This trim and siding option is low maintenance and easily retains its attractive appearance for years.
James Hardie – HardiePlank siding is a fiber cement option made by mixing cellulose fibers into a cement base, resulting in a product that is extremely strong, insect resistant, fireproof, and extremely durable. Each plank has a wood-like appearance, giving you these modern benefits with a classic look that can fit any home.
Crane Performance Siding® – Crane engineers foam reinforced vinyl siding and are known in the industry for their workmanship, durability, and energy efficient products. With their different styles and shades of vinyl siding available, we can find the correct one for your home and install it as one of the certified installers of Crane Performance Siding in the region.
For every project, we work one on one with homeowners to help you choose the right option at each step of the process. Whether you are residing your home, adding siding onto a renovation or an addition, or completing new construction, we make it easy to consider all of the different choices, benefits, and costs.
We first take into account any aesthetic options you are looking for with your siding. From there, we can lay out the options that will provide the best energy efficiency based on your home's location, layout, and size, as well as your overall budget for siding installation.
Benefits of Updated Siding for Properties in the Greater Sacramento
One of the biggest factors in choosing and installing new siding is always going to be the appearance. Siding offers the ability to achieve a beautiful home that will be a standout in your neighborhood and give you a place to enjoy coming home to day after day.
But with today's options and our extensive product line at California Energy Consultant Service, it is possible to get the specific appearance you want while also taking advantage of a multitude of other advantages that modern siding can offer:
Energy Efficiency – Many siding options can offer superior energy performance over others as they help to insulate your home and save on heating and cooling costs. In addition, our installation process will update your home wrap and reduce energy transfer between interior and exterior spaces for a noticeable increase in indoor comfort year round.
Long Lasting Durability – Wood composite, vinyl, cement fiber, and other innovative options are durable and can stand up to weather events, pests, fungal growth, sunlight, and impacts without a decline in their appearance or strength.
Low Maintenance – The majority of our siding options require almost no maintenance to keep them looking great and in a good shape. Many have colors injected directly into the material for a colorfast application that does not require painting. With dependable strength, regular cleaning with a hose or power washer can be enough to keep dirt and debris off of your exterior walls.
Increase in Home Value – With all of these different advantages, new siding can provide a dramatic increase to your home's value and maintain that value for a number of years.
Our expertise means that we know how to emphasize different features. If you are looking for cost savings and increased comfort with a new siding installation that offers high energy performance, we can provide specific recommendations to meet your needs.
We can also work with you to choose the options that are most durable, have the greatest long term value, and offer a range of other benefits depending on your specific needs.
Our Service Area for New Siding Estimates
California Energy Consultant Service is a Sacramento siding company that serves all throughout the Greater Sacramento region. We provide service to any location within reasonable driving distance, allowing us to serve communities such as:
Sacramento
Roseville
Folsom
Rancho Cordova
El Dorado Hills
Auburn
Rocklin
Elk Grove
Citrus Heights
Fair Oaks, and Beyond
When you're looking for a siding contractor near you, our Orangevale based team is able to travel to your location and provide you with a free siding quote that is both competitively priced and expertly installed. We can also provide you with additional services, such as an energy efficiency assessment, to help you get a better understanding of the needs of your property.
Why Choose California Energy Consultant Service as Your Local Siding Contractor?
Installing new siding on a home is an intensive project and one that requires a significant investment and represents a relatively permanent addition to your home. As a result, it is important to be sure that you are working with a company you trust.
California Energy Consultant Service provides the best results in siding installation while also letting you partner with a team that you will feel comfortable working with throughout the process with all of the cost-effective services and incredible results.
Whether you are planning a siding replacement or installation, contact us to learn more about the available options and set up a time to receive your personalized cost quote along with more information about the types of siding we have available.