HVAC Services – AC Repair, HVAC Replacement, and More with CECS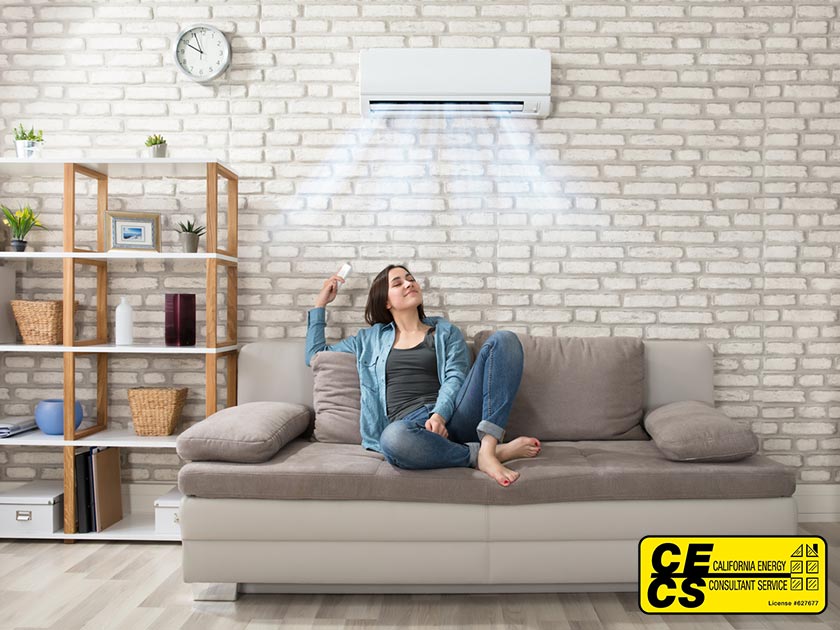 Here in the Greater Sacramento area, we rely heavily on our HVAC systems. There are times during the summer when our air conditioners are forced to run nearly 24 hours a day, with furnaces and heating systems that need to be powerful enough to keep us warm during the cold winter nights.
California Energy Consultant Service provides HVAC services in the Sacramento region. We are based in Orangevale, and proudly service areas that include Fair Oaks, Folsom, Roseville, Citrus Heights, Cameron Park, and beyond. We specialize not only in HVAC units, but also energy efficiency, allowing us to determine not only the type of HVAC support you need, but also how to keep your home cooler in summer and warmer in winter without operating the unit all throughout the day.
With a NATE Certified team that has over 40 years of experience in the region, contact CECS for your AC repair, AC replacement, and heating related needs. Let our friendly and knowledgeable team help you save money on your energy bill and stay more comfortable all 12 months of the year.
About Our Sacramento HVAC Repair and Replacement Services
Every HVAC system has an expected lifespan. Like any other type of technology, over time, the appliances that make up the HVAC unit are going to start to wear down and break.
In addition, the science behind the power and energy efficiency of HVAC systems has changed dramatically over the past few decades. New HVAC systems need significantly less energy to run, saving money in addition to improving the interior temperature.
California Energy Consultant Service is an energy efficiency and local HVAC company that is able to provide a variety of heating and air conditioning services to support you and your property. Our services include:
AC Repair – Your air conditioner will break down. Our AC repair team will get to your property as quickly as we can to get your air conditioning unit running again. If your AC does not appear to be cooling your home properly, or your energy bills are higher than expected, we can also take a look at your air conditioner and see if there are adjustments that can be made to help.
AC Replacement – Every AC will eventually need to be replaced, either because it is no longer working properly or because it is not energy efficient enough for your home. We are able to provide air conditioning replacement services for properties both large and small. We offer very competitive costs and will never pressure you to replace an AC that is still operational.
HVAC Tune Up – You should expect to need at least two tune ups a year. One is for your air conditioner, and the other is for your furnace, although we always look at both any time we're on your property. Every HVAC system should receive a tuneup to make sure that you're spotting problems before they get worse.
Heating – There are several heating options available today, including 80% and 90% gas furnaces and heat pumps. We can review your existing system to make sure that it is operating efficiently, or replace your existing heating system to make sure that it is able to warm your home efficiently during the cold months – especially as the cost of gas continues to rise.
Duct Replacement – Air ducts play a significant role in not only the ability to circulate clean air through your property, but also your HVAC's longevity, as poor ductwork can force your HVAC system to work harder. We can provide duct repair and replacement, and see if there are any signs of leaks or inefficiencies.
Full HVAC Replacement – At some point, you will likely want or need to replace your entire HVAC system (or install a new one while renovating a property). Our team is fully licensed and insured, able to not only provide HVAC removal and installation, but also make sure that the system is running as efficiently as possible.
Ductless Mini Split System – A ductless mini split system is a new way to provide heating and cooling that is more energy efficient, provides more control over your property, and may be available at less cost than a full HVAC replacement depending on ductwork.
Our experienced team has the talent and training to make sure that your HVAC is working correctly, and provide solutions in the event that you need a replacement.
Our Service Area
We have been a part of the Sacramento area for over 40 years. We are happy to travel to any location that is within a reasonable driving distance, including:
Cameron Park
Rocklin
Citrus Heights
Carmichael
Loomis
Elk Grove
If you are nearby, need help and do not see your location listed here, please give us a call. We know how important it is to get help with your HVAC, especially if it is not working properly during our hot summers, so please contact us and we'll let you know if we can help.
Start Today – Contact Us for a Quote or to Schedule
Some HVAC issues can be completed at a convenient time. But others are more urgent. Call or fill out our online form when you need HVAC service, and our company will try our best to be there for you as soon as we are able. We are also happy to provide a quote, and don't forget to ask us about our energy efficiency assessments and our other services to help keep your property comfortable and reduce your carbon footprint.
HVAC FAQs
We encourage you to contact us any time you have questions. Our team is here to make sure that your system is always functioning its best. The following are some of our more frequently asked questions:
Q: How Often Should I Receive an HVAC Tune-Up?
A: Twice a year. We encourage you to join our club program, which offers a lower rate on tuneups and a discount on HVAC services.
Q: Why is a Tuneup Necessary?
A: Tuneups help us spot problems long before they become major issues. While it is possible for any HVAC system to randomly die if it is too old or there is an issue with the unit, most of the time, HVAC systems start with smaller issues that become more expensive and difficult issues when not properly repaired. Tune ups allow us to test the system, tighten bolts, address wiring issues, clean components, and more to help ensure that it continues to operate.
Q: Do You Have Ways to Improve My HVAC's Energy Efficiency?
A: Sometimes! Every HVAC unit is different, with different settings, ages, efficiency levels, and more. We are an energy efficiency company, so we will see what is possible to reduce energy costs and improve comfort.