Ductless Mini Split System – HVAC Installation, Repair, and Servicing in Sacramento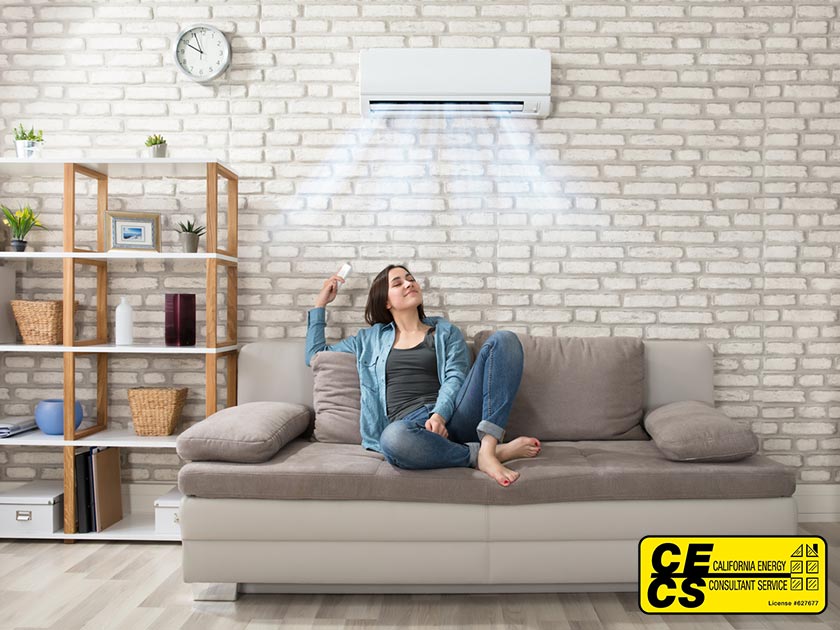 A significant part of keeping your home comfortable and doing it efficiently is having the right equipment for the job. With the right equipment, you can get the cooling power you need, the customizability and functionality, and a modern, efficient system all in your budget. For many homeowners in the Sacramento area looking for a targeting air conditioner in smaller spaces, a mini ductless split system HVAC is a promising, newer option to consider.
California Energy Consultant Service specializes in ductless mini split systems as an energy efficient option for Northern California homeowners. We provide mini ductless split system installation and servicing throughout the Greater Sacramento area, and can help you determine if this is the right solution for your home or other spaces on your property.
To learn more about this cooling and heating solution and the advantages it offers for local properties, contact CECS today and get a free quote for installation.
What is a Ductless Mini Split AC System?
A ductless mini split system is an alternative to traditional HVAC appliances, and uses individual, smaller units to target specific rooms with no ductwork needed.
It consists of an outdoor unit, that houses the compressor and condenser, and an indoor air handler, sometimes called a "head." The two are connected by power cables, a refrigerant line, a drain line, and copper tubing, but no ductwork. All of these connections require a hole in the wall approximately 3" in diameter for an extremely easy installation.
The indoor air handler draws in air where the evaporator coil in it will extract the heat and blows the cool air back into the room. The heated refrigerant returns to the compressor to release the heat, and then cycles back into the air handler.
The majority of mini splits are heat pumps, and they can provide dual functionality as an AC in the summer and a heater in the winter. If you prefer, there are models that are air conditioners only.
It is possible to install multiple air handlers that connect to a single outdoor compressor. This creates a system similar to central air with a cooling source in multiple rooms, but does not require ductwork. It also gives you the ability to set temperatures in each room separately.
Each mini split air handler is ideal for heating and cooling a single room or contained space, with the actual square footage cooling power dependent on the unit capacity.
Mini Split System AC Installation from CECS
When you are adding cooling to a new home or structure, existing property, or addition, California Energy Consultants Service is the team you can rely on to get the right cooling for your property type, square footage, and budget. We have advanced experience in a range of air conditioning systems and work with you to determine if a ductless mini split system AC is the best choice for your property. Our services include:
Initial Planning – We determine which capacity unit you will need, if you want mini splits that can provide heating as well, and – if we will be installing multiple mini splits – the locations and where they will connect to the outdoor compressor.
Installation – We install all components of your mini split AC system, optimized for the most efficient cooling functionality in a particular space.
Calibration and Testing – With the system in place, we calibrate thermostats and make sure that everything is set up to run correctly on your new AC.
Cleanup and Old Unit Removal – If you previously had a window unit or old AC equipment that you are replacing, we can safely dispose of it.
We managed the entire process as quickly as possible, both to provide cost savings and also to get you the right cooling solutions fast.
Ductless Mini Split Repair and Other Services
CECS also offers repair and servicing for existing systems. We can repair ductless ACs that are showing signs of a problem or no longer providing the level of cooling you expect. We can also tune up your mini split AC system to be sure that it is working as efficiently as possible and not at risk for any problems or repairs.
Our repairs and mini split tune ups will continue to provide service for as many years as possible. We are also able to provide our services on all models of mini splits.
Benefits of Mini Split System ACs
Ductless ACs offer a range of benefits over time when compared with central air systems or window AC units in both new construction and when you are looking to upgrade a property that does not already have a built in air conditioning system. This benefits include:
Powerful Yet Efficient Cooling – A mini split can generally cool more effectively than a window AC without requiring more power. Because you can manage each system based on the room(s) that you're currently in, you can reduce the amount of energy you use and make each room warmer or cooler more efficiently.
Affordable Installation – With the mini split system AC, there is no re or there is no need to run ductwork. Instead, you only need a small hole and to mount the compressor and air handler. That can mean that a ductless mini split may be cheaper for properties that require large scale HVAC replacements.
More Control Over Cooling – Since you can set the thermostat in each room, you can cool only the rooms that need it rather than having to cool your entire home. This makes it easier to manage upstairs spaces or achieve more comfort while also saving on energy costs.
Non Obtrusive – The interior air handle is mounted on the wall at ceiling level. This keeps it free of most furniture and does not block your windows. The operation is also extremely quiet in comparison with central air and window units.
Better Efficiency – A mini split AC is more efficient than central AC on average. This is because about 30% of expended energy is lost in the ductwork of a central AC, but a mini split preserves this energy usage. This is in addition to the energy savings from not cooling an entire house at once.
With all of these benefits, a ductless mini split system AC can often be a more cost effective and environmentally friendly cooling option for properties in the Sacramento area. Although mini splits cost, on average, more per BTU of cooling than central air, savings during the installation as well as throughout its lifetime can make this a more affordable cooling solution.
Where to Install a Ductless Mini Split System
Because a mini split can conveniently cool a limited square footage, it is ideal for individual rooms and smaller living spaces. They work particularly well when you want to air condition an area that is not attached to the larger central air conditioning system, or when you want to give a particular area more control over heating and cooling.
Typically, ductless mini split systems are used to cool entire homes, with each room of the home getting its own mini split system. For smaller homes, this may require on a few units. Larger homes may require many. It's also possible to install mini splits in individual rooms when your HVAC system does not reach that room. For example:
Home Additions
Lofts
Garages
Multi-Family Housing
Accessory Dwelling Units (ADUs)
Stationary Tiny Homes
Airbnbs
Rental Units
In Law Quarters
You can also add additional air handlers in the future very easily with a ductless mini split, connecting multiple to a single outdoor compressor, depending on its capacity, making it easy to grow with your property or more finely tune your cooling needs in the future.
Our Service Area for Mini Split AC Installation for Northern California
California Energy Consultant Service provides our services throughout the Sacramento area. We work with property owners in:
Sacramento
Orangevale
Citrus Heights
Rancho Cordova
Folsom
El Dorado Hills
Cameron Park
Roseville
Lincoln
Elk Grove
Fair Oaks, and Beyond
Our team is well equipped to deliver energy efficient air conditioning solutions in our area since we are extremely familiar with local climate conditions and energy trends. This makes it possible for us to recommend the right options for each of our customers.
Why Choose CECS as Your Sacramento HVAC Company
The right cooling solutions are essential in Sacramento's hot summers. But California Energy Consultant Service aims to go further by not only providing a cooling system, but the technology that will save you money by saving on your energy costs and increase the value of your home as well as the comfort of your family.
Our mini split installation and servicing is:
Transparent – With an upfront quote, we let you know from the beginning what to expect in terms of cost on your installation. We also provide all of the information you need to make the right decisions for your service.
NATE-Certified – Our technicians are certified for heating, ventilation, and air conditioning services so that you can trust the quality of your mini split installation.
Experienced – We have worked in the HVAC industry for many years and made a reputation for providing customers with the leading service using our extensive experience to consistently deliver.
Whether you are already planning on a mini split system AC installation or considering all of your options for cooling, California Energy Consultant Service can help you in the process. As a full service HVAC company, we can be your partner in all of your heating and cooling needs.
Start the Installation Process – Contact CECS Today
As one of the most energy efficient and effective air conditioners on the market, ductless mini split ACs are one of the top options we have at California Energy Consultant Service, and the ideal solution when you need to cool or heat a small space.
Let us help you figure out if a mini split will work for your property and provide the optimal installation. Call us or use our online form to start with a free estimate.