Call California Energy Consultant Service for AC Repair, AC Maintenance, AC Tune Ups, and More
California Energy Consultant Services is a NATE certified AC repair company serving the Greater Sacramento area. We provide fast AC repair and maintenance service, able to diagnose the problem with your air conditioner, HVAC, or ducts and do our best to repair the issue quickly.
We are based in Orangevale, near Sacramento, and serve every area of the region – from Elk Grove to Roseville to Fair Oaks, Folsom, El Dorado Hills, Rancho Cordova, and beyond. When you are in need of air conditioner repair services, or you suspect something is wrong with your AC, our team works fast to find the cause of the issue and provide a repair that returns cool air and efficient functionality to your home once more. Call us today at 916-281-0548, or fill out our online form to learn more.
HVAC and AC Repair Services for Sacramento, Rancho Cordova, and Roseville, and Beyond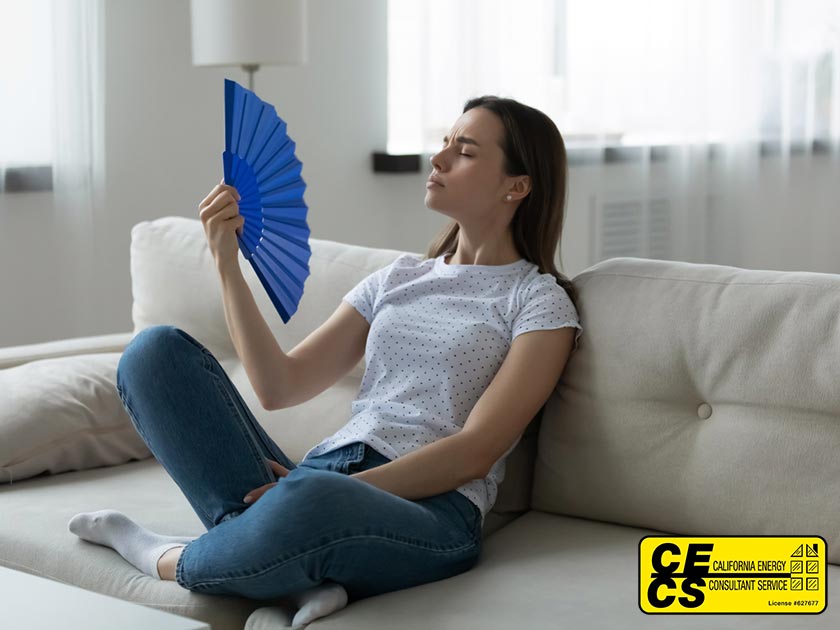 Summers in the Greater Sacramento area are hot. It is not unusual to have many days each summer where temperatures are well over 100 degrees, and the delta breeze cannot always be relied on to cool things down in the evening.
It is because of this extensive heat that we in the region rely on working air conditioners. Without an AC that is fully operational, we're left with hot days, sweaty nights, high electric bills, and a level of heat that can be dangerous to sensitive groups.
This means that any issue with your air conditioner could be a serious threat to your comfort, finances, and possibly your health.
As a team of AC repair specialists, California Energy Consultant Service is dedicated to finding ways to make your home more energy efficient and ensure that your air conditioner is functioning properly.
When you are dealing with a malfunctioning AC or an older unit, the energy efficiency of your home will often be one of the first things at risk. Increased energy bills are the first time that many people notice when AC performance suffers and one of the primary reasons that customers call CECS for Sacramento AC repair.
But there are other indications of a problem with your AC that can be managed with our AC repair or replacement services. These issues include:
Air conditioner not working at all.
AC producing lukewarm air.
Unusual noises like rattling, squealing, banging, and others.
Odors such as mold or burning.
Freezing coils.
Leaks around your outdoor unit.
AC cycling on and off continuously.
Any sudden changes in the way that your AC functions is a good reason to call California Energy Consultant Service to schedule AC repair. Our team will be able to identify the issue and make the necessary repairs to any part of your system, including compressors, coils, ductwork, thermostats, and more. Our team is highly experienced, and know how to work with essentially all major air conditioner manufacturers over the last 50 years, including:
Carrier
Rheem
Lennox
Ruud
Bryant
Goodman
Mitsubishi Electric
Trane, and More
We also always take the most conservative approach possible, because we know that you want to keep your costs and stress low.
If, when looking at the problems with your HVAC system, our team believes it will be more cost and energy-efficient to replace your unit, we will give you an honest recommendation for your options and a no-pressure, no-obligation quote.
Many HVAC issues occur naturally as a result of aging and years of cooling homes in the high Sacramento heat. Eventually, it will become necessary to replace your AC altogether. This will naturally provide greater efficiency as new AC units naturally have better energy performance ratings and are less likely to experience malfunctions and breakages.
AC Maintenance in Sacramento
Some AC problems and inefficiencies can develop more slowly over time. In addition, the more your air conditioner runs, the more issues can arise. This is where regular AC maintenance can help.
Our trained HVAC technicians know what to look for in an HVAC system, and we are able to differentiate between normal functioning and potential problems. If a new issue has developed with your AC over the past few years, we can take steps early on to repair it and prevent the problem from getting worse.
An AC tune up in Sacramento will also take care of many of the regular maintenance steps necessary to prolong the life of your AC and keep it operating efficiently year over year.
Why Contact California Energy Consulting Service for Your Next AC Repair or Tune Up?
A small AC problem is typically only the beginning. California Energy Consultant Service is able to set your AC up to work all summer long with the best energy efficiency possible. But we are also here to be the team you can trust throughout the process, whether you are getting regular maintenance or dealing with an emergency repair, with services that are:
Fast and Efficient – We can get to your home quickly when you have a problem with flexible scheduling and a dedication to timeliness. Once at your home, we examine the problem and conduct troubleshooting quickly to get your AC back online as soon as possible.
Affordable – We want to save you money in the long run by giving you greater efficiency with your AC and all of the HVAC equipment. But we also save you money during the initial repair, replacement, or installation process with competitive pricing on our services.
Transparent and Knowledgeable – We have answers to all the questions you have about AC systems, your home, and your energy efficiency. In our recommendations, we are honest and upfront about pricing and timelines so that you always know what to expect from AC repair.
Our AC repair is available in all of the areas around Sacramento, Placer, and El Dorado Counties, making it possible to get the best AC repair wherever you are located. We have an increasingly wide service area and are happy to travel to homes of all sizes. We are also happy to provide you with ac repair even if you are not currently a client, and those that are part of our club program can receive additional discounts if your AC needs any parts or repair.
As locals in the area with over 40 years of experience, we are able to provide services that are tailored to the region to help you achieve an HVAC system and home that functions with the best possible energy efficiency in the Sacramento area.
Call CECS for Dependable AC Repair
Being without AC during the summer in the Sacramento area is many homeowners' worst nightmare. California Energy Consultants Service can get the issue under control quickly with our experienced Sacramento AC repair and ensure that your home is comfortable, efficient, and protected from continuing issues. Contact our team to schedule a visit for your AC repair.