Window Replacement in Sacramento: Start Your Project
California Energy Consultant Service provides window replacement and window installation in Sacramento, Folsom, Fair Oaks, Orangevale, Rancho Cordova, El Dorado Hills, Elk Grove, Roseville, and all throughout the Greater Sacramento area. We are known for our low cost quotes and commitment to service, with access to the latest and best window brands include Andersen, Simonton, and Milgard.
As Sacramento heats up, it is now more important than ever to replace older windows and improve energy efficiency. Contact us at any time to schedule an estimate for our window services using our online form, or call (916) 545-7912.
Getting Started: What Window Installation Entails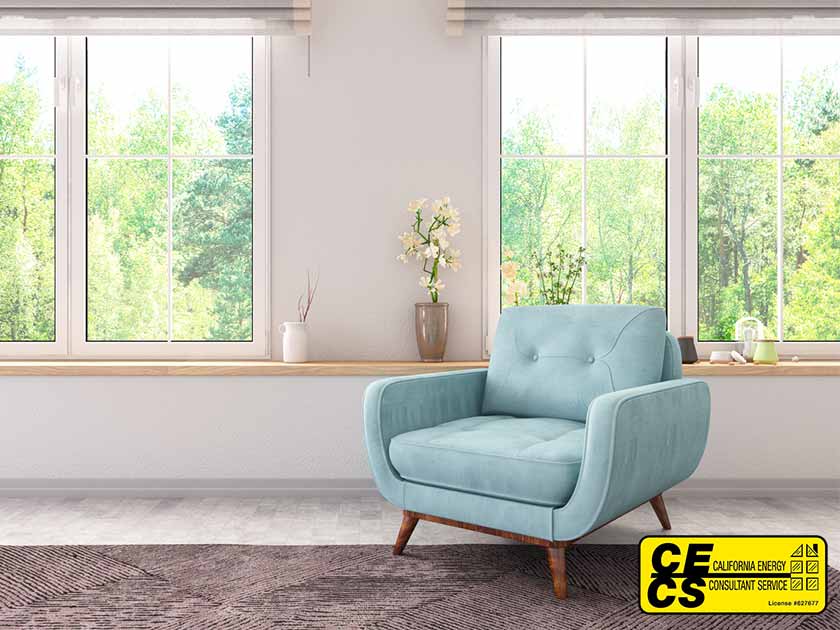 Windows may appear at first glance to be large slabs of glass. But there is a science to windows – both to the windows themselves and to the installation and replacement process. Property owners that are interested in windows in Sacramento will likely have questions and ideas that they want to implement. Let's help answer some of those questions.
What Types of Window Installation Do You Offer?
There are actually two different ways to install windows:
Retrofit Windows (Sometimes Called "Replacement Windows")
New Construction Windows
Retrofit windows place a new window in the existing frame. The old window is removed, and the new window is placed directly within the rectangle that is left behind by the window. It is a less labor-intensive process that saves money, though it does come with a few drawbacks: it can make your window appear smaller, since the new window takes up some extra space, and it doesn't have the "built in" appearance that many homeowners prefer.
New construction windows, which are offered here at CECS, involve removing the existing frame and building the new window into the property. This allows for windows of larger sizes, creates a built in appearance, and can prevent energy loss. However, this is a more intensive process, often requiring removal and installation of siding, new paint, and new drywall.
Our Sacramento window replacement team can provide both types of installation, and is happy to discuss the advantages of each option.
What Does Window Replacement Cost?
Contrary to popular belief, most of the cost of window installation is due to the price of the windows themselves from the manufacturer and is outside of our control. We genuinely do understand how tight budgets can be, and we provide the lowest cost quote we can for all of our window replacement services. We are also an approved window contractor for "Go Green" loans in Sacramento, and we qualify for SMUD Home Performance Rebates, helping you save even more.
When we look at the cost of windows, we generally look at how much it would cost to replace windows in an entire property. Since property sizes and styles throughout Sacramento can vary wildly, this can mean very different quotes. A small home with only a few standard sized windows and no sliding glass doors that uses retrofit installation may cost only $4,000 to $8,000 before rebates. However, a mid-century modern larger home (a style that tends to use many windows) that is installed with new construction may cost $60,000 or more. We strongly encourage you to contact us for an estimate, since that is the best way to give you a truly honest price, and don't forget about the rebates available from SMUD.
What is the Average Cost for a New Window Installed?
If you only want a single window installed, it is typically $600 to $2500 depending on the size of the window. Most of the cost is for the window itself, with installation services representing only a nominal increase in price. However, it is typically cheaper per window to install more windows at once, so if you are looking to save money per window, it is best to install more windows at once.
What Window Frame Options Are Available?
Simonton, Andersen, and Milgard all have a wide variety of window frame materials and colors. White windows are standard, so other colors may come with a slight increase in price (depending on the style) but you can typically find some variation of all colors. Black window frames are the most popular after white windows, but there are browns, blues, greens, and many other choices available.
Windows can also be designed using vinyl, wood, and fiberglass frames. We encourage you to contact us to discuss these different options.
How Long Does it Take to Get Windows Installed in Sacramento?
It depends on which windows you order and what brands you order from. There was a period not long ago where the supply chains were slowed, and it was difficult to get windows in time for your project. Now, supply chains are easing, so typically there is about a 3 month lead time or less. But this varies depending on the season, so please contact us if you'd like to know the current lead time on new windows.
When Should You Get New Windows?
It's impossible deny that Sacramento is getting hotter, all while energy costs are getting more expensive. If you still have single-pane windows, you're going to want to replace them right away. You can save as much as 30% in energy efficiency, giving you an immediate reduction in your energy bills.
If you have double-pane windows, then it depends on how old they are and whether they match your style. Double pane windows from the 80s, 90s, and even the year 2000 are not nearly as efficient as the windows today, and all windows have about a 20-year lifespan. There is a good chance that your current windows are leaking energy and possibly also letting in pests.
If you're not sure, California Energy Consultant Service does provide home energy assessments, so we can come to your property and see if there are any energy efficiency issues with your current windows. Of course, if you simply prefer a new style for your windows, then any time is a good time to call.
How Soon Can You Get Started?
If you're interested in window replacement in Sacramento, contact California Energy Consultant Service, today. The sooner we can get you into our schedule, the sooner you can have brand-new windows installed on your property. We'll let you know how long it is taking different window manufacturers to create and send their windows, and then we'll schedule you in to make sure that you get them as soon as you are able.
Learn more or call CECS today – your Sacramento window contractor – and don't forget to ask us about our other energy efficiency services, including HVAC, siding, sliding glass doors, and more.