Home Services in Fair Oaks with CECS – Windows, Doors, HVAC, & More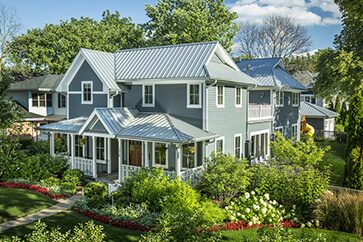 California Energy Consultant Service provides installation and repair of products that improve your property's energy efficiency while also enhancing the appearance and functionality that your home and business needs. We provide properties in Fair Oaks with services like new windows, doors, HVAC services, including AC repair, siding installation, and much more.
As energy becomes more expensive and everyone wants to do their part to reduce their environmental impact, these home efficiency upgrades can help you save money, build your property's value, and keep your more happy and comfortable in your home. Get a quote for our services or ask us about our home energy efficiency performance consultation by calling our team at (916) 545-7912 or via our online form.
About Our Fair Oaks Energy Efficiency and Comfort Services
At California Energy Consultant Service, we are here to provide specific services that your property needs, or we can carefully analyze your home for energy efficiency problems and provide you with a list of solutions to make your home more comfortable. Some of the services that we provide include:
Window Installation and Replacement – We offer some of the highest quality windows in Fair Oaks for highly competitive prices, providing both retrofit and new construction depending on your property. We offer Andersen windows, Simonton windows, and windows made from products like wood, fiberglass, and vinyl – all of which offer many advantages that will improve your home's comfort and increase your property values.
Doors – Your doors are best known for their aesthetic appeal, but they also affect your energy efficiency as well. We provide exterior doors in a variety of styles that also reduce energy loss and provide the functionality that your property needs. Our Fair Oaks door installation and door replacement services include sliding doors, French doors, glass doors, and even pet doors – all the exterior doors that help improve your property's looks and functionality.
Siding Installation and Replacement – When most people think about energy efficiency, they think about windows, air conditioners, or solar. But one of the main sources of energy loss comes from the walls. That's where new siding can be effective. With products like wood, wood composite, fiber cement, insulated vinyl, and stucco, there are many siding options that can dramatically improve your property's energy use – and change its appearance as well.
HVAC Services – Fair Oaks has impressively hot summers and surprisingly chilly winters. A working, efficient HVAC system keeps your family comfortable and helps save money on your energy bills. We can provide AC repair in Fair Oaks, AC replacement, furnace and heating repair and replacement, and new installations to help address Sacramento County's unique weather.
Here at California Energy Consultant Services, we are here to provide you with all the different services that your property needs to stay comfortable, save money on your SMUD or PGE bill, and change the look of your home. Whether it's a small problem with your air conditioner or a complete window and siding replacement, we are available to provide all the services your property needs.
How Our Home Energy Efficiency Assessments Work
One way that our team at CECS is different is that we are able to provide thorough home performance energy assessments to determine if there are any problem areas that can be addressed. With these assessments, we review your property inside and out, looking for:
Signs of Energy Loss in Your Utility Bills
Signs of Air Leakage
Insulation in the Attic, Floors, and Wall
Current Window Efficiency
Age and Energy Use of the HVAC System
Water Heater Energy Efficiency
Duct Sizing and Duct Leakage, and More
Our team will provide an honest assessment and, if you'd like to work with CECS on repairs, we'll provide competitive quotes for all of the different changes needed to get your property where it needs to be.
Let's Get Started – Contact CECS For a Quote
California Energy Consultant Service is a SMUD qualified energy contractor, with access to many of the SMUD rebates that are available for home energy upgrades. We also have an extremely talented team of contractors that is available to come to your Fair Oaks property and do the best possible work each and every time.
Whether you suspect that you may have an energy efficiency problem or you're constantly dealing with hot summers, cold nights, or expensive energy bills, California Energy Consultant Service is ready to help. There are many financing options available for large scale projects and access to the best available materials. If you have a property in Fair Oaks that needs any of these upgrades, contact our team today to get started.