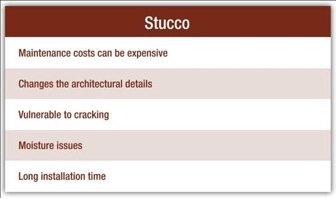 1. Condition : Cracking
Stucco cracks when exposed to the elements, allowing moisture infiltration.  Cracks should be noted during routine homeowner inspections and compared to previous observations. If they are noticeably bigger than previously seen, moisture testing in that area should be conducted.  If cracks that are found exceed around an eighth of an inch, you should have a contractor perform a proper restoration. This restoration typically involves either the crack being cut out and patched or the installation of a control joint.  A moisture level over approximately 20% for a sustained period of time will begin to cause deterioration of the wood substrate behind the stucco.  Sometimes stresses transfer from the supporting structure to the stucco and cause it to crack. In other cases the stucco may crack because of shrinkage shortly after application.
2. Condition: Blistering or Bubbling of Finish
A common cause for blistering or bubbling of finish from stucco wall surfaces is water getting behind the finish.  As water accumulates at a particular location pressure can build that eventually causes the finish to blister. Sometimes the stucco itself may come apart if the stucco is weak at the surface.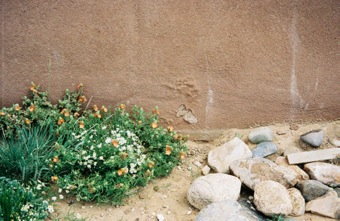 3.Condition: Efflorescence is the migration of soluble salts in Portland cement based materials to the surface of the material.
Efflorescence occurs when water enters and dissolves unhydrated Calcium Hydroxide (CaOH3) and carries it to the surface where the water evaporates. When exposed to air the Calcium Hydroxide (CaOH3) combines with Carbon Dioxide (CO2) to form Calcium Carbonate (CaCO3), the white deposit that is on the surface.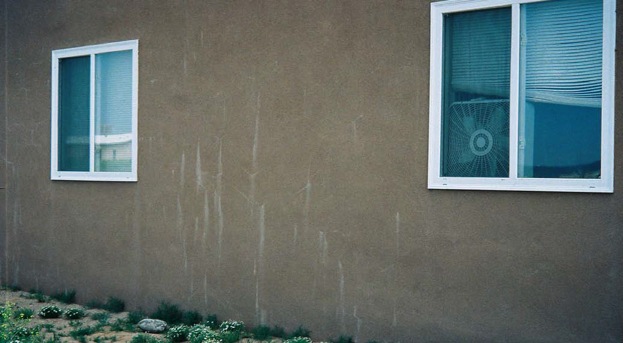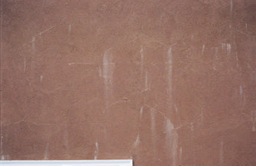 4.Condition: Water Intrusion
Water intrusion can occur from many sources, such as ground water seepage into foundation or stem walls, unprotected parapets, improper or poorly installed roof, deck or chimney flashing, leaky windows, or cracks in the stucco itself. Depending on the severity of the water intrusion, it can result in conditions such as efflorescence, blistering or peeling of finishes, or in more serious cases, water damage to structural elements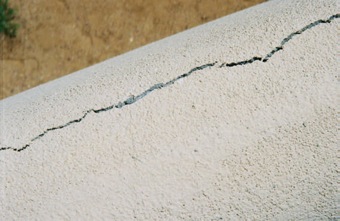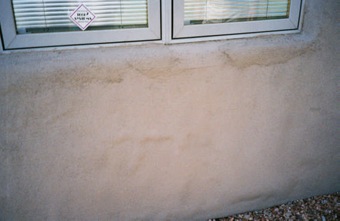 To learn more about siding products and services, click here.